Hi Mum! (or Pop) I'm Here to Help You Find the Best Baby Stroller!
…and give you some solid stroller tips
Buying your first stroller can be a breeze if you know what you are looking for. Lucky for you I created this guide to help you find the best stroller at the best price.
Babies grow fast, so you have to consider your options and save some cash realizing your baby is going to pop up quick into older baby model car seats and strollers. Plan to buy another stroller within the first twelve months to suit your baby as they grow. — #Budget
Go test drive some strollers at the store.
Getting first-hand experience with strollers and how well it maneuvers around is your best bet. Even if the stroller received a lot of good reviews, it may still not work as well with you. Maybe you are a shorter person and handlebar is just too friggin' high for you. But even still, don't buy one until you read some reviews from past customers and study the manufacturer!
Pro tip * While you are testing the stroller at the store see how well you can maneuver around one handed. When you cross this bridge in the future you will thank me later.
Other things to look for in a stroller?
Folding and opening your stroller should be a breeze. If you can't snap that jank in one flowing move, find another stroller. The good strollers are easily foldable so you can maneuver around quickly and easily through the chaos of a screaming hungry baby. Pro tip * applies here as well. Make sure you can do this one handed.
Types of Strollers ~ Stroller Lingo
As a new parent, a soon-to-be new parent or an existing parent, it can be difficult to purchase a stroller without knowing what you're looking for ahead of time. Below are descriptions of the types of strollers available to help you narrow down what is right for you.
Lightweight Umbrella Strollers
Umbrella strollers are the most basic type of stroller. They are also usually the cheapest option. They're lightweight, less than 12 pounds, and designed for older babies and toddlers. They're shorter and have fewer features, such as a basket or cup holder that you might want. Umbrella strollers act as a great back-up option or for a family that needs to maneuver in tight spots. Avoid purchasing these as a first stroller for an infant or a baby that doesn't have much head support. They tend to sit upright and don't offer reclining options or thick padding.
Standard 4-Wheel Strollers
A basic standard stroller is one of the most common used. It typically has a padded area for your child to sit, recline or lie down along with a basket for carrying additional items underneath and cup-holders for extra space. Some types also offer easy or one-hand folding, which can be a serious consideration when you're trying to juggle a baby, a diaper bag and a stroller all at once. Higher-end models allow parents to alter whether their child looks forward or at them while riding. They also have sun shades to protect the baby from direct sunlight. The price range for a standard stroller varies from low to high, with the main difference in price being the extra features certain manufacturers offer.
Car Seat Stroller Frame
A stroller frame is, as it sounds, a frame that a car seat snaps directly onto. It is very convenient for moving the baby from a car to a stroller without needing to transfer everything over. They're lightweight and convenient, but aren't usable once your baby outgrows their infant seat. Relatively inexpensive, but they are not very good for long term use because once your baby grows out of their infant seat you need to purchase a seat stroller insert for your stroller frame.
Travel Systems
Travel systems are a combination of a stroller frame and a standard stroller. The primary drawback to these is price and size. These strollers can be used with or without the car seat, eliminating the need to purchase a new stroller once your baby transitions out of their infant seat. A travel system includes both the stroller and the infant seat that coordinates in color or pattern, making it convenient for an all-in-one purchase for a first time parent.
Strollers for Jogging

These are ideal for parents that intend to take their child for runs or walks on rough terrain by offering additional comfort and safety features. Jogging strollers have three large wheels instead of four smaller ones. They also include shocks to reduce how rough the ride is for your baby. The front tire also swivels from one side to another, making it easier to maneuver than a standard stroller. One of the most important safety features that a jogging stroller offers is a safety strap to prevent the stroller from rolling away while walking or jogging. A hand brake adds to safety and gives you more control while steering.
Double Strollers
A double stroller is an ideal option for parents of two young children or twins that need to be in a stroller. They're offered in a front-to-back, also known as a tandem, or side-by-side models. The side-by-side models are bulkier and can be difficult to maneuver on sidewalks, through doorways, or in large crowds due to the additional weight of both the children and stroller itself. Some put the larger child in front and the smaller one in the back, or vice-versa. A sit-and-stand model allows the older child to sit or stand on a platform in the back of the stroller, making it a more convenient option for larger or older children.
---
An umbrella stroller is good to have once you're out of the beginning stages of your baby's growth. It can be used from about 6 months until your little one no longer needs a stroller (around 3 years old).
There are all kinds of strollers and models of strollers -useful strollers and strollers for fashionistas, but whatever you end up choosing, be sure that it meets your lifestyle and budget – plan ahead. Shop around after you have chosen your ideal stroller because it is amazing the price differences you can find out there if you look, the same stroller at Walmart maybe cheaper at Wayfair. Check it!
---
Pram – another word for old fashioned carriages for infants to lie down. Sorta' a bassinet on wheels. Great for newborns, after that not so much.
Carriage – Just another name for a stroller, often referring to the ones where baby is facing you as you push.
---
** Most common features include reversible seating, extra pockets, parent tray, cup holders, baskets for storage and adjustable features like handlebars, cushions, snack trays and canopies.
*** There are also strollers that look like jogging strollers but are not jogging strollers… they are just designed for people who like the look of a jogging stroller and the easy smooth riding of one, but don't intend to run with their baby. Why wouldn't everyone get this? Well this type of stroller is usually bigger, bulkier and harder to handle. A trade off if you want to ride smooth over rough terrain.
Important Questions To Ask Before You Buy
Is there enough storage space? Is it durable enough to handle all your stuff?
Snacks, diaper bag, baby gear, groceries, impulse purchases – all can end up in your stroller. Make sure your stroller is sturdy enough for your lifestyle.
How much does it weigh?
Stroller weight varies considerably. It is remarkable. You could see a stroller that doesn't look heavy, but it is heavy. Or a stroller that looks heavy, but is super light! Be sure to look up the weight of the product (if you are buying online), because it is usually listed.
Are Safety Standards Met?
Check for certifications, safety tests done and that it meets basic safety standards.
Look for locking wheels, safety strap harness, and product history.
Is it easily washable?
Figure this out. Because things are going to get messy.
Do you want a snack tray?
Yes. You want a snack tray.
(and a cup holder, for your coffee)
Check the wheels.
A lot of "fancy looking" strollers have cheap, plastic wheels.. Check dem wheels.
Important Tips That Make Buying a Baby Stroller an Autumn Breeze
Buying a ride for your baby is kind of fun. You have pretty much endless options to choose from. Accessories you can add-on to your stroller and all kinds of stuff. HOWEVER. Buyer beware, there are some cheap strollers not worth your dollar as well as safety considerations – before you buy check to see if the stroller has been recalled.
This is why OhMyGoogoogaga.com suggests you buy an older model, with a tested history of performance. Be wary of newer strollers on the market.
There's a lot of baby gear and baby toys on and thousands of merchants selling baby stuff that really, you don't need. Sure it is super fun but spend your money on the stuff you require first.
A baby stroller is one of those necessary items. As your little one grows you'll likely end up buying more than one, but there are products that you can use that adapt and are convertible for your baby's quick growth. The grow like wildfire weeds!
Something like four million strollers are sold each year and growing, innovation occurs with all that so new products generally are easier and safer to use than older models. But like I said previously, be careful with new products. You can avoid the worry if you buy from a trusted manufacturers with a long history of solid, safe baby products.
Why would you need extra tips to use a stroller?
Its easy enough to understand, put baby in stroller, strap them in and be on your way.
But to avoid any risks, its a great idea to look for ways to improve safety and minimize risk.
Did you know the majority of stroller-related accidents result from falls?
Knowing this tiny but valuable info can help you avoid accidents by knowings what to look for and whats up! There are of course some less common and avoidable risks associated with them but without more digression to the point of why you are here – here are some ways to keep your baby safer in the stroller.
Check the Age Requirements and be on top of when you need to adjust for Age
The little squirt will spurt up so fast you may lose track of time. Buy a calendar, be ready to update for upgrades as they age and grow up.
Also be aware that not all strollers are suitable for newborns, you need a specific car seat and stroller for newborns. Avoid driving while there this small if you can. When your baby is able to sit up on their own, a cheap lightweight umbrella stroller isn't recommended. It'll do the job, but if you can afford get a durable heavy weight stroller. You can try to shop used for a solid stroller to lug around little one. Most parents keep their strollers in tip top shape, not only to re sell buy because their is a precious item inside of the stroller and they probably did their best to keep it sturdy!
After a year though your probably cool using an umbrella stroller. Baby less fragile, and plus umbrella strollers are really light and easier to maneuver and carry with you. Although at least one umbrella stroller in Consumer Reports tests reclines fully, allowing a harnessed infant to ride safely lying down, most are meant for children older than 6 months. If you have your heart set on a lightweight baby stroller, look for a model that can be completely reclined or can accept a car seat.
Plan ahead — Consider Your Lifestyle (and the weather)
Stop to consider the season during which your baby will be born, because this can be one of the first things you should consider when you are looking for what kind of stroller you want to buy. Who thinks about the weather or seasons? You do now.
Also consider where you live. Why? Do you live in the city or the suburbs? A rural area or somewhere you'll have to detach and carry baby up a lot of stairs. If you live in a big city and don't own a car, your stroller will likely get a lot of wear so you'll want to look more for reviews of durable and heavy duty type stroller. If you drive a lot, your stroller may sit in the trunk so you may want one that is compact — and if it is super sunny in the middle of summer, a small baby needs to be shielded from the sun!
Breathability is a consideration (plus what they are wearing). Canapy is good yes, and you should get a stroller with a nicy canopy but little one is wild and spontaneous and will probably jerk the thing down while your driving. So consider buying a sun screen blocker for your window.
Keep on top of the weather, and if th UV index is too high or high temperatures. Going on walks through the park is nice, but you want it to be an enjoyable safe experience!
If it is going to be cold you should stock up on items that keep your baby warm in a stroller and inside a car.
Considering on buying a jogging stroller?
Great! Get into fun healthy habits with your little one. But, do not use a normal 4-wheeled stroller for jogging. You need one made for jogging that is balanced and moves smooth with stability. A normal stroller can easily tip over and the loose wobbly wheels can't be trusted.
The safest jogging strollers have a wrist strap that's connected to the handlebar. Always use it. You don't want to lose control of your stroller at high speeds.
*** It's recommended your baby be at least 8 months old before jogging with them. We recommend to wait until one year of age, just to consider slower developing times. We vary in how fast we grow! Baby needs to develop strong neck support to avoid injuries.
*** Before each run, inspect your stroller, loose screws and also tires to make sure they aren't going flat. Aim to air your tires at least once a month.
There are numerous factors to consider ensuring that you buy a stroller that you will get the most use out of and that suits your individual family needs. Don't just walk into a store and buy a stroller without having at least a basic idea of what you're looking for among the many buying options.
The number of children you have is one of the most important factors to consider when selecting a stroller. Double strollers, which can carry two children at once, are a popular option for parents of two stroller-aged children. This is especially true for parents that need to take children out alone.
Evaluate how you're going to use your stroller before diving in and buying. There are all sorts of models that vary in size, price, extra features and weight.
Pricing goes from the most basic strollers that cost less than $50, to designer and high-end models with so many features that you can't even keep track of for more than $1,000.
You'll want to buy one that meets as many of your needs as possible without flying completely out of your price range.
All should have a secure restraint system to protect your baby from injury. Some offer a simple lap belt, while others include a complete five-point harness for babies that tend to be escape artists (all babies).
The best way to choose the best stroller for you is solid reviews & recommendations you trust, from a friend, family or someone you know with experience. Check the reviews and search for any recalls or safety concerns that other buyers have mentioned. Go in stores, read reviews and really look at everything a stroller has to offer. Don't go into the store completely undecided, or you might end up having to stand in line returning it at a later date.
---
Cool Toys & Accessories for your Stroller

Strollers Strollers Buggy pendant cooler bag can also be used pouch multifunction trolley baby Stroller Accessories
---

BABYROUES INSULATED WEATHER SHIELD / WIN FITS STROLLERS JOGGERS
---
Holds just about everything Baby will need during an outing – extra diapers, jackets, rattles, and toys. This sturdy bag is knitted of 100% cotton, has an elastic top band to keep contents secure and attaches to your stroller with fasteners at all four points to keep bag neatly out of the way.
---

Keep baby cool with this clip-on Buggy Fan. Attaches easily to strollers and other surfaces to keep the breeze flowing on those warm summer days. Fan cover protects small fingers. Requires 2 AA batteries, not included
---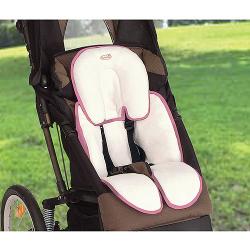 "Summer Infant 77670B Snuzzler Infant Support for Car Seats & Stroller
---
Perfect for the City Convenient comfortable and trendy this easy to use stroller ensures the well-being of your little one Sure to win the hearts of every mom this stroller will also get you plenty of compliments due to its trendy look and striking color Clear breathable design Zips securely over stroller